Extra post: 378 words and one for Wicked Wednesday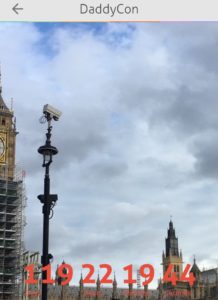 The ping on the iPad drew her back to her bed, coffee cup in hand. She took a sip of her drink while she keyed in her password.
One message popped up on the screen.
Ready for a call?
Yes, I'm ready.
The screen changed so the request to connect a video call appeared. She pressed it, eager to see him.
Her heart sped up as he appeared on the screen, his hair fluffy and his smile warm. She wanted to hug and kiss him desperately, but had to settle for a wave.
"Hi, Daddy."
There was so much longing in her voice she was almost embarrassed by how she felt. He would tell her to never be embarrassed by her emotions so she just blew him a big kiss and smiled.
Three thousand, two hundred, and seventy miles only seemed like a few inches when his face was on the screen. No, she couldn't touch him or kiss him or snuggle him, but she could see him. She could watch the way his face changed when he was being serious or silly. She could see his smile.
She could tell him that she loved him and know that he could hear and see the truth of her feelings.
"Hello, kitten. Have you had a good day?"
"I did! Just back from the gym."
Distance meant little when she could see him. Yes, she longed to be by his side, feet tucked into his side or laying with her head on his chest while he went about working. She missed his warmth and his smell and his cooking, but she heard his voice and she could watch him.
They could spend moments in silence or speak on those things that bothered them both. She could listen while he chatted about life and she felt like she was there with him.
No, it wasn't ideal, but it was perfect because she had him.
"How many days until you're by my side again, kitten?"
She checked her countdown calendar, the application showing her the numbers down to the second.
"One hundred and nineteen days, twenty three hours, and…" she glanced at it again. "Twelve minutes until I'm with you again."
Closer to him than yesterday. She could handle the distance.