Welcome, welcome, welcooooommmme. Enter in to my new den of sex toy review naughtiness. I have a little gentleman I want you to meet.
I'm cozied up with Jack and Jill as an affiliate and the toy I'm going to talk about was sent to me in exchange for an honest review. So all the clothes are off and the naked truth is out there. On to the naughty!
Well, another full disclosure before we continue. Sex toy reviews aren't my thing. There are a number of bloggers who are stellar at reviews and it's never been something I've wanted to dip my toe in. The reason is two fold, you've got to be able to create a review that isn't repetitive or boring while informing people, and you have to be good about timely reviews. My area of expertise is erotica, erotic writing. The two can mix, but sex toy reviewers and erotic writers typically don't write along the same lines.
So why now? Why create this Den of Naughtiness by joining an affiliate? I want to try different things. It's easy to let just erotic writing be all I do here and I don't want to fall into a rut. So maybe once a month I'll give this a roll and see what flows out.
What did I get??
I received the Satisfyer Pro Penguin Next Generation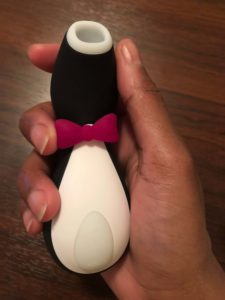 I've nicknamed him the Little Gentleman because of his shy ways and his cute little bowtie.
If you care, this is the packaging it comes in. Nice if wrapping is your thang. Jack and Jill did include a small package of lube and a condom.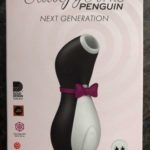 This little guy is a sucker? A vibrator? a little guy that clings to your clit and then knocks your socks off?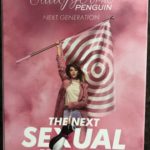 How to Charge Up
He is rechargeable! He has magnets on his butt that the charger connects to and stays attached pretty securely considering.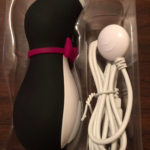 The soft button on his belly pulses and glows while he's charging and then is a solid white color when he's fully charged. I haven't tested precisely how long the charge lasts, but I charged it up when I first got him a week ago and just put him on the charger when the vibrations weren't as loud/wouldn't increase in speed.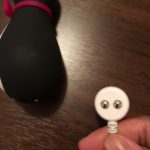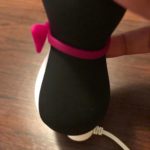 How to get off
The insert instructs you to part your labia and apply the hollow mouth to your clit. You press until your clit is sucked into his "mouth" and against the vibrating (tongue) inside.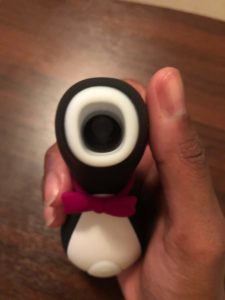 I stuck my finger in to see how it felt and it wasn't unpleasant. There is an soft padded button on his belly with 4 waves at the bottom and 2 at the top. You press down to turn on and it gives off a low rumble sound. You pressure down again to turn the rumbly vibration up. Slide your finger up toward the top of the button to turn it down. Hold the bottom button to turn it back off. It's not particularly loud if it's applied to your clit well, and I think the sound is easy enough to mask. The sound is a bit louder if you take it off your clit.
He can be used under water to intensify the sensation. I haven't had the pleasure of this activity, but my desire to masturbate doesn't usually manifest when I'm showering.
How to clean up
It's made of silicon so easy clean up! You can use a toy cleaner/warm water and soap on the body. The mouth (where your pretty clitty goes) can be cleaned with a cotton swab/Q-Tip.
How'd it make me feel
At first, I was convinced I wasn't doing this correctly. I'm fumbling with him, trying to get him in the right spot, and wondering if I was just missing the point. Is the mouth well applied? Do I have him pressed down right or hard enough? I'm underwhelmed and nothing is happening.
And then… AND THEN… I must have found the spot or angle to hold that fit my clit as it engorged and whoa. Whoa! I found myself coming so hard I nearly saw spots.
So when I say shy, I mean we had to get to know each other and when we did he was the most exciting guy. Don't let the bow tie fool you, he did the damn thing when you needed him to do it.
I tried him again on another play time to see if there was less fumbling, but the results were about the same. Nothing is happening, nothing is happen, FUCK soooo much is happening right now!!
Pros
Strong magnet for charging.
Buttons aren't difficult to turn on or function
Easy to clean
Once it hits the spot, it fucking hits it
It's soo cute with it's bow tie
Cons
For me, I fumbled a bit. You have to press your clit into it so it almost seals so that it can vibrate against it. I fiddled around before I figured out the right placement that got me off.
While the rumble when attached to your clit isn't loud (easy to mask), even at it's highest setting, when it isn't attached it is a higher whirr that others could hear. Not the loudest toy I've owned.
In conclusion:
He's very cute and I feel very comfortable adding him to my small collection of toys. Like any relationship, there are missteps as we feel things out, but knowing he can knock my socks off is enough to make me want to stick around. Fancy dinners? Maybe not. Coming super hard? Yea, that's pretty good.
Reminder that this is an affiliate link post! Jackandjilladult.com is also running a special for Valentine's Day with 20% off your purchase. Click the banner below and use code JNJLOVE at checkout for your discount through Feb 15th!