While I'm typically disinclined to do the award shtick, I figured I'd christen the new spot with its first blog award.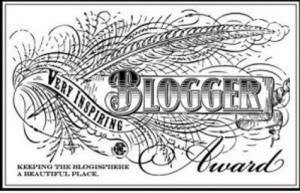 Rushmore Judd was kind enough to nominate me for the Very Inspiring Blogger Award. Check out his blog here or here)
And The Rules:
1. Display the award logo on your blog.
2. Link back to the person who nominated you.
3. State 7 things about yourself.
4. Nominate 15 bloggers for this award and link to their blogs.
I've honestly never considered myself inspiring. I've had more than one individual call me mysterious, interesting, arousing, or adorable. I've also been called cool, abrupt, confusing, and honest (though that last isn't a bad thing). Never inspiring.
Inspiring implies that someone looks to me, sees the things I do, and is motivated to do something or be someone better. In my line of work, knowing that I've inspired someone makes me giddy. I want to know that my efforts aren't always in vain. So, thanks to Rush, whatever his reasons for nominating me.
Seven things? Lets talk about the seven things that excite or turn me on.
1. Traveling or talking about it. I've been to a few countries and enjoy talking about the places I've been. I actually get really excited when I know I'm going somewhere new or old. I also get terrible travel envy even if it's a place I've been to a hundred times.
2. The biggest taboo subject that turns me on is m/m erotica. Especially if it's two big manly guys. I love reading it and imagine I'm the jelly to their sandwich.
3. I get excited about eating. The act of tasting food, letting it slid over my tongue, and having it linger in my mouth is awesome. I just enjoy trying different things and savoring the flavor
4. Thinking about being spanked really gets me going. Now to find someone I trust enough to bend over their knee…
5. Nothing thrills me more than someone saying they liked something I taught, wrote, showed them. I feel competent, knowledgable, and entertaining.
6. I'm excited get a bit of new steel soon. PDB! Look that up. Bonus points if you figure it out. 😉
7. Can I leave the last one blank? I'm kind of boring.
No nominations at this time. Mostly because I like a lot of people and can't narrow it down. Know I adore you though.