This week's prompt. Gawd, my girly bits can't handle it! The gif refuses to play (a damn shame) so go check it out then come back and read.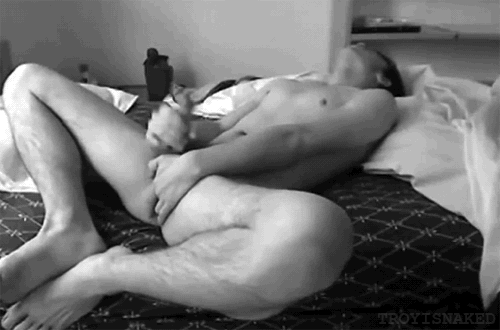 I'm bad. The names I call myself as I creep out of my house, around the back, across the yard to that spot just beneath his window are vile. Those names and all the chastising in the world don't stop me though.
Stooping in the grass pushes my skirt up to my waist, exposing my cunny. God, I'm so wet and puffy – just the slight caress of the breeze makes me bite back a moan. I breathe in, a mixture of scents filling my head, the most dominant being my own smell.
"Mmm."
I freeze as that deep groan of pleasure reaches my ears. It comes again and my body tightens in anticipation.
"Yessss."
I can't wait any longer. Need pushes me to my feet and I have just enough sense to stand to the side of the open window. As I search for him through the curtains, the grunts and groans make me so hot I can't think.
Geez…
My hand drops to my pussy without thought, my body so ready that my fingers slip deep inside.
There he is in all his magnificent glory; laid out on the grey sheets like a bronze offering. His blonde hair mussed from moving his head frantically across the pillows, his eyes closed tight and his mouth open wide, and the muscles of his chest, stomach, and thighs standing taut.
And his hands. I swallow and find my throat unbelievably dry as I watch the way his hands work.
They're large, and I know without a doubt that he'd be able to contain any handful of my body that he grips. He'd leave large, perfectly red prints on my ass with every smack. He'd be able to hold my wrists with just one of those paws and play my body so well with the other.
"Oh, God," I whispered under my breath at the image. I finger myself harder as I focus back in on him in the present.
At the moment, those hands move in a splendid symphony. His cock stood trapped in his fist, the head glistening and dark pink as it appears. The other tugs at his balls, stretching the skin and squeezing them enough to add a touch of pain.
So delicious. A moan slips out before I can stop it and I go still. His attention is on his own pleasure and I breathe a sigh of relief that I immediately choke on when the hand gripping his balls slips down and dips between his cheeks.
He's… I swallow again as he spreads his thighs wider, giving a perfect view of what he's doing. I pull my wet fingers out to play with my clit, pressing my aching breasts into the cool brick siding to keep me steady.
As his fist blurs up and down his cock, his finger presses into the tight ring. I bite my lip and squeeze my clit so the urge to cum subsides. A wasted effort, but I need to hold on.
He's thrusting his hips hard, his body jerking and his moans guttural as he nears the end. I'm nearing the end myself and I know I'm going to come before he does. I want to feel the squeeze of my body so I plunge my fingers deep inside my heat and send myself over the edge
It hits me hard, sweeping through me with such force I almost collapse. I hold on though because I need to see him, and my perseverance is rewarded moments later.
That first fountain of cum renews the spasms of my cunt. He groans long and loud as the next pearly white stream lands beside the other on his chest and stomach.
I want to lick up the drops, I want to taste the salt of skin and cum, and I want to suck his softening cock until he shudders from sensitivity. I want him so damn much.
When he collapses limp on the sheets, I feel just as wrung out. Every time I watch it's that spectacular. It's why I can't stop! Knowing he's on that bed, taking his pleasure every night makes it impossible to stay away.
I let my eyes linger over his beautiful body, loving the sheen of sweat and the rapid rise and fall of his chest. I need to leave, but I can't help wanting to look at his relaxed face.
Bright blue eyes meet mine and it sends a jolt of fear and arousal through me. They're hooded, but intent and I'm held in place by that gaze. I can't tell from his expression how he feels about my lurking and I'm too damn scared to move.
"Tomorrow."
His word is a promise and a plea, sending me away and begging me to come back. I flee, guilt and renewed arousal nipping at my heels.