Kayla has found another inspirational photo this week. I believe it's time to play, no?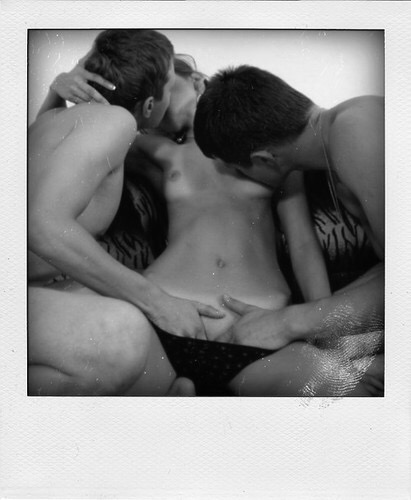 She slipped her hand back in her lap to conceal the tremor. Abby had considered this fantasy, brought herself off by it daily, but facing the reality of it made her pulse race with more than a small amount of trepidation
Watching the two men on the couch across from her chat so casually fed both her nerves and her arousal.
David and Peter; the two couldn't be more different. One tall and dark with a runner's lean but strong build and the other short, stocky with the body of a rugby player. They spoke like the close friends they were, laughing and teasing each other with a familiarity she envied.
Having known them since college, she'd thought they'd be the perfect choice to fulfill this particular fantasy for her. She'd never tell them that they'd been the stars of her masturbation sessions for years. When they'd ended up back at David's house for a nightcap, she'd been eager to get to it.
Except now they were ignoring her to talk about work. It was as though they'd forgotten her and the question she'd posed over dinner an hour ago. It had taken all her courage to bring it up and now it looked like wasted effort.
Abby had long since given up participating in the conversation and was quickly coming to the conclusion that they weren't interested.
"You know, I think it's getting late. I have an early shift tomorrow." She uncurled herself from the couch and stood up to grab her clutch from the coffee table.
Two sets of dark eyes turned on her, pinning her in place with their intensity.
"Oh no, not yet. We haven't even had a chance to get reacquainted."
It was David who spoke, but the heat was present in both their eyes.
The tremor returned with a vengeance then. Her hands fluttered nervously around her thighs even as a surge of wetness dampened her panties.
"I didn't think… I wasn't sure…" She stopped and pressed the heel of her hand to her eye for a second.
By the time she'd gathered herself again, Peter had crossed to stand in front of her. Even at his shorter height he still managed to loom over her, his nearness overwhelming.
He brushed a wisp of hair back from her face and then settled his hand at the nape of her neck. His hold was light, but under his hand she felt her nervous energy drain away. Peter had always had the strange ability to settle her with a touch.
Being this close to his body now did something crazy to her though. When his other hand fell to her waist, his thumb brushing back and forth along the bare skin near her hip, she felt herself leaning into his caress.
"I think," he began as he stepped in close, "that the night has just begun. I think that there's a little unfinished business to deal with, don't you, David?"
"Lots of unfinished business." Abby glanced over Peter's shoulder to see David standing just behind.
He looked hungry, they both did, and she felt that hunger deep in her gut.
Abby licked her lips and two pairs of eyes zeroed in on the movement. "Maybe… Maybe we should talk about what happens next?"
Peter made a growling sound that made her whole body tremble. "I think we've moved beyond talking."
He took her mouth in a kiss that turned her body to liquid heat. Abby clung to Peter's strong arms, trying to hold on as he possessed her. God, did he ever know how to kiss. His hands swept along her body, gripping her hip to hold her to him and molding her breast with his palm.
"Don't forget about me." David's hot breath stirred the hair at her nape just before his lips latched on to that spot between neck and shoulder.
Suddenly she was sandwiched between two hard bodies desperate for the hot press of their skin against hers. She moaned into Peter's mouth as David sank his teeth into her throat. He ground his cock into her bottom as Peter nipped her lower lip and teased her nipple.
"Oh, God," she breathed out as her head fell back on David's shoulder. She was in overload and they'd just started.
Peter pulled at the straps of her dress until they dropped low revealing her bare breasts. He wasted no time drawing one bud into his mouth and suckling hard. Her hips bucked and wiggled, drawing a groan from David.
"Fuck! You're going to kill me." He wrapped an arm around her waist to hold her still. "I need to feel that pussy. Is it wet for us, Abby?"
She couldn't even utter a coherent reply, all her attention focused on the intense suction of Peter's mouth at her breast. Every pull sent a wave of heat straight to her cunt, leaving her tense and drenched.
David pulled her down to the couch, her bottom in his lap. It pulled her nipple from Peter's mouth, but he quickly followed them down and kneeled between her spread thighs. His mouth fastened on to her left breast as David's fingers found her naked pussy beneath her skirt.
"Jesus! She's soaked." One finger pressed in between her lips and she lifted up so he could sink deeper. "Fuck me. Peter, you gotta feel her."
Peter released her nipple with a pop and dropped his gaze to where David's hand worked. Abby felt wanton spread out with her skirt bunched to her waist. It felt too good to let any self-conscious feelings creep in and Peter's groan of appreciation made her feel that much sexier.
"How's she taste?" Peter's gaze remained intent on David's fingers.
Abby whimpered when David took his hand away to taste her cream. He slurped at the digits, moaning is obvious delight.
"Like the best thing I've had in months."
"Hell yea." Peter's hands settled on her thighs pushing them wider as he moved in close. "Spread her open for me, man."
David opened her cunt and Peter dove in. She was lost after that, one hand buried in Peter's blonde locks and the other twined with David's as he played at her breasts.
This was her heaven, her fantasy at a far greater level than she'd ever anticipated. Just having them playing her body, being caught between them, was enough to send her over the edge. She came like that with Peter's lips tugging at her clit and David kissing her senseless. Better than she'd imagined.
"I could bottle your cream and drink it for the rest of my life." Peter winked up at her, his chin and lips shiny with her wetness. He licked and smacked his lips until she giggled.
"I need to feel her wrapped around me." David's voice sounded strained in her ear. "I gotta have that pussy."
Peter pulled her up and helped her shed her clothes. She tugged at his jeans needing to feel his skin. He laughed at her hurried fumblings.
"Somebody is eager for cock. Don't worry, little girl, you'll get plenty of it."
David placed a kiss at the small of her back, his hands on her thighs. "Let's give it to her."
Seeing the grin on Peter's face made her gush. They both helped her up on the couch, putting her knees on either side of David's thighs facing away from him. His cock stood up ready for her and she watched as Peter held the base of it so David could guide her down. First the flared head parted her labia and then he was gliding into her inch by delicious inch. They controlled the pace, her cunt filling with him so slow she burned.
When he bottomed out, her pussy massaged him in appreciation causing him to groan. Her eyes lost focus as she stretched around him, David's hands digging into her hips.
"Uh uh, Abby." Peter's hands burrowed into her hair, pulling her forward so she bent at the waist. "Not enough cock yet. Time for a lot more."
The wet head brushed her lips and she opened wide for him. He slid in until he just touched her throat. She gagged, drew a breath in through her nose, and swallowed around him.
"Oh, fuck," he hissed, his hands tightening in her hair. "You better get going, Dave, or I'm going to cum long before you do."
David gave a rusty laugh as he pulled out and thrust back on. "Gonna come like the first time you had a girl suck on your dick, Pete? Hope you can get it back up to fuck this pussy because it's mint."
Then there was no more talk, or Abby just couldn't focus to hear it. Because they were thrusting in counterpoint. A cock leaving her cunt just as the other entered her mouth. Stretching her and trying to fill her to the brim. She received and enjoyed and gave her body as best as she could. Just their groans of pleasure brought her to the edge. Her sucks turned ravenous, her hips working desperately, anything to make them cum with her.
Peter surged into her throat and it set her off. She jerked wildly as they held her tight and used her body.
David came first, the spasms around his cock too much. He yowled, ramming up into her as he exploded. Peter followed, his cock sending jets of cum down her throat, forcing her to swallow as he cried out his satisfaction.
Abby was limp. Peter's cock slipped from her mouth as she rested her forehead on his stomach. She was too tired to move even as hers and David's combined juices dropped from her.
"I think we broke her." David pulled her back so she rested against his body.
"A damn shame." Peter flopped down on the couch beside them. "I wanted my turn in that pussy."
Abby smiled, her eyes half closed. "Let me catch my breath and I'll have you both again."
David twitched inside her. "Is that right?"
"Mmhm, one in my pussy and one in my ass. Only if you think you can handle it." She rolled her head on David's shoulder to wink at Peter.
"Oh, I think we can accommodate." Peter reached over to pull her in for a searing kiss.