I'm late to this, but the Wicked Wednesday topic yesterday was on fishnets and I just wanted to do a post on it.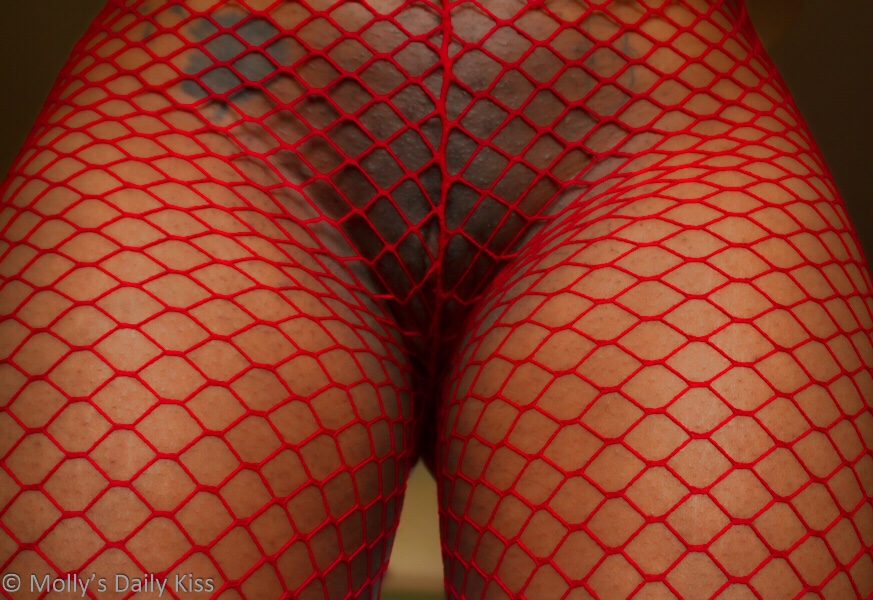 Fishnets have traditionally had an interesting blank spot in my life. I've either associated them with slutty women (not even a strong association to be fair) or I've not thought of them at all. It means I've never really thought of myself as a "fishnets type of girl". A little daring, a little naughty, and a bad bitch.
But that girl lives in me, doesn't she? I've visited with her over the years. For those moments I want to feel sexy. There's the act of pulling them up your legs that feels different than regular hose. They feel and look amazing. Or when I slip into a dress like above. I always imagine someone touching my skin through all those holes, tickling and teasing me. They'd eventually say fuck it and rip the whole thing off, grabbing one of the many holes and taking away that little bit of modesty the dress gave me.
Can you imagine that at a party? The bottom of that pretty dress gone, me bent over a bench, you watching my covered breasts sway while I'm being fucked from behind? Maybe you're fucking me while everyone else watches? You'd touch my back through whatever holes remain and tell the crowd they'd get their turn next.
Whoa. Well my mind took a detour!
Anyway, fishnets always feel like special occasion wear. Sex party wear. As someone with a fuckdoll/bimbofication kink, fishnets really play into that mindset for me. Ready for anything and everything in fishnets.