I've literally spent the last few hours trying to determine how to combine this week's Wicked Wednesday prompt and the Kink of the Week prompt on tails. So I'm going to do what I normally do when I'm debating a chatty post and a fiction post.
Imma do both, ya feel me?
I've noticed that there's this idea that tails and pet play are linked. It's an easy connection to make, frankly. I identify with kitten as an honorific, I own a really really lovely fur butt plug tail, and I have a pair of cat ears with bells on them that make me so very happy.
I mean, look at me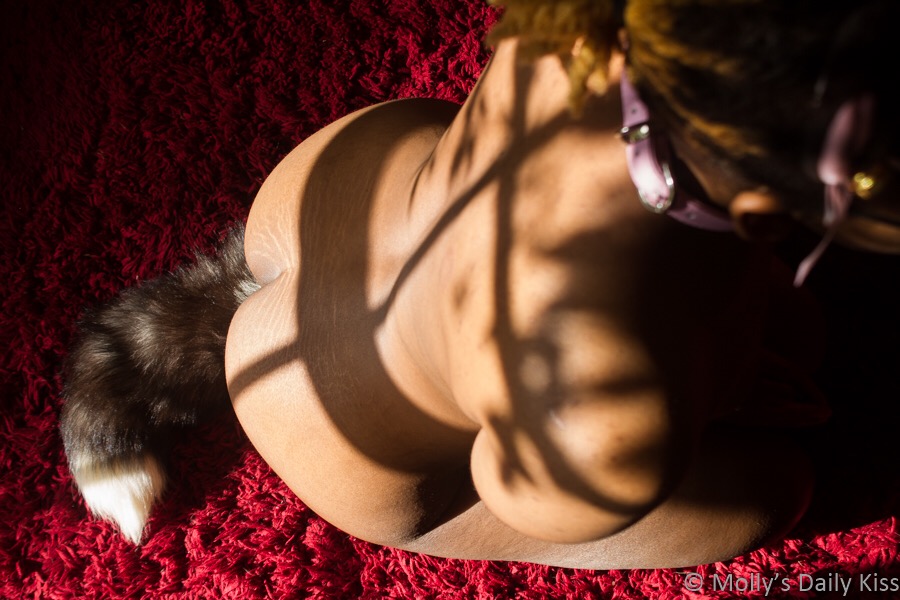 Loooooook!
Honestly, I can't say I have such strong feelings of cat-ness when I wear my tail. To me, it's just a continuation of the submissive feelings I already have. Just like some people like to put on certain clothing to get into the mood of a scene, putting the tail in puts me in a certain mood. The tail goes in and I want to serve Daddy. It also makes me very aware of my body, how wet I get and how eager I am.
Tail can definitely equal play, but not so much pet play.
Okay, the cat behavior isn't too incorrect. I do feel cat-like at times. Sleek and pretty, in need of a petting, want a snuggle when I want a snuggle, and grumpy and moody too. Again, that doesn't necessarily mean I want to do any cat play.
What does kitten play look like?
"There's a good little kitty. Are you ready for some milk?"
She uncurls herself from her bed and stretches, front paws extending with butt high and back arched. A yawn exits on a low mew before she slinks across the floor to where he stands. She taps his elbow to catch his attention.
"Meow."
She turns big brown eyes up to him and wrinkles her whiskered nose.
He lets her lean against his thigh as he smooths his hand along her bare shoulder. A quick grasp at the nape of her neck makes her purr. He moves to tap her lips, smiling as she wraps her little pink tongue around his finger.
"Milk."
A tap on her head sends her over to her bowl. She leans down, making sure her bottom is up for him to see. He gives a gentle tug on her tail that makes her breath hitch, and then flips it up so her wet little pussy was on display.
"Someone really needs a petting, hm?"
Her tongue laps at the milk as his fingers trace from clit along her perineum and up to her pucker. She mewls into her bowl, but holds herself still for his caress.
The milk is sipped up faster and faster, her claws digging into the tiled floor. Her whole body shivers with need.
"All done with your milk, kitten?"
Her eyes refocused on her bowl to find it empty. Her poor pussy throbs, but knows her chance to come has passed.
"Meow."
She pouts up at him, but doesn't complain.
"Back to your bed. You'll get a better petting later."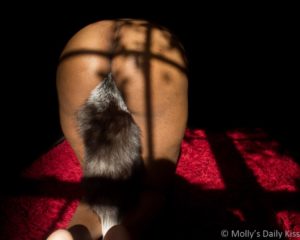 Obviously pet play isn't something I'm familiar enough with to do justice in a story, but perhaps I'll come back to it. Though after that little bit, I really want to put on my ears and tail and have a nice petting from Daddy.